NATURAL AID
CHICKWEED SKIN REPAIR
Your Cortisone-Free Solution for Itchy Skin Relief
Suitable for newborns to adults
May assist in managing unhealthy skin associated with conditions
like eczema, psoriasis and dermatitis.
Helps to alleviate dry, red, itching skin and repair damaged skin.
Every parent wants their babies and children to have beautiful healthy, flawless skin without their well-being compromised in any way. Natural Aid is acutely aware that a baby's skin can be 5 times thinner than that of an adult and whatever is put on the skin (the largest respiratory organ) is absorbed into their bloodstream and into their organs.
Chickweed may be effective for treating these conditions because it contains relatively large amounts of vitamins, including the antioxidant vitamin C, and flavonoids (as noted by the University of Michigan Health System).
It also contains the omega-6 fatty acid gamma-linolenic acid, which may reduce inflammation (according to the University of Maryland Medical Centre).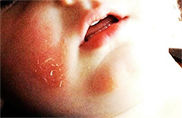 Before applying cream 3 days after, all clear
CHICKWEED GEL
Natural Aid has meticulously crafted a rich nourishing and hydrating Certified Organic Topical Gel, infused with Chickweed extract rich in vitamins, flavonoids, fatty acids and powerful anti-oxidants. The high saponin content of this herb is thought to be the reason for its effectiveness in relieving skin problems.
Certified Organic Calendula Officinalis plant extract with its powerful soothing & restoring properties, along with Tea Tree Oil, a natural antiseptic and antibacterial ingredient, makes this an excellent product suitable for the most delicate and sensitive skin, non-greasy, readily absorbed, fast acting and effective, with no nasty parabens, silicone, sulphates or petrochemicals.